Report.
INTRODUCTION
Lake Baikal was included in the world heritage list by a UNESCO resolution in 1996. Thereby Russia and Mongolia together with the world community pledged to protect the lake. The lake and the adjacent area inhabited by more than 3 million people have all the necessary resources for the people in the region to be spiritually and materially wealthy. Therefore, a modern high-tech economy needs to be build that would support a high standard of living and environmentally sustainable development of the unique region. Among other measures aimed at achieving that, the local citizens and guests should be provided with reliable and objective information about the state of the environment, economy and social sphere in the region. The present report was written to serve the purpose.
An effective policy in the field of environmental protection and rational use of natural resources within the transboundary basin of Lake Baikal can be securely implemented only if a common information space is established over the two countries. The present report is the first attempt to combine information resources of the Russian Federation and Mongolia for creating a complete socio-natural picture of the great lake's geosystem.
The report was created upon request and with the assistance from the United Nations Development Programme and Global Environment Facility aimed at facilitating the integrated management of natural resources within Lake Baikal basin for achieving ecosystem resilience and improving water quality within the wider context of sustainable development. With the purpose of creating the report, a Russian-Mongolian team was formed consisting of highly qualified researchers and government officials dealing with the issues of sustainable development of the transboundary area.
The content of the report is based on the Russian and Mongolian official documents published in 2012-2014 – state reports on the state of the environment, strategic reports - as well as fundamental and applied research conducted in the frameworks of the UNDP project «Integrated management of natural resources of the transboundary ecosystem of Lake Baikal»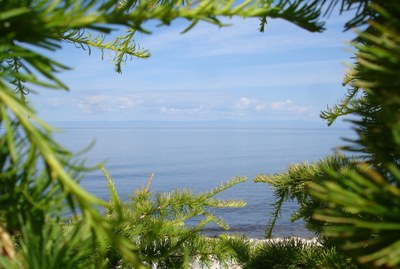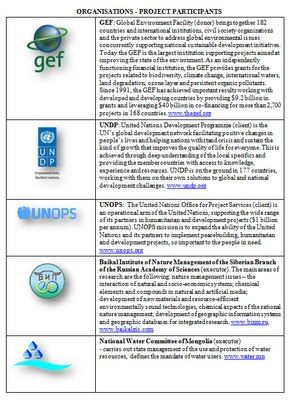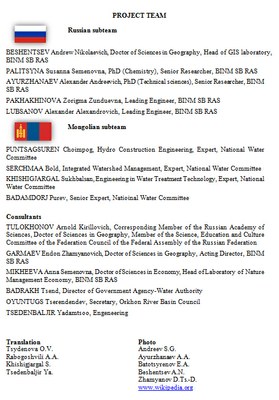 THE LIST OF ABBREVIATIONS
BINM Baikal Institute of Nature Management
BNT Baikal Natural Territory
BPPM Baikalsk Pulp and Paper Mill
CEZ Central Ecological Zone
FSA Federal State Agency
GDP Gross Domestic Product
GEF Global Environment Facility
GIS Geo Information System
JSC Joint Stock Company
LLC Limited Liability Company
MECC Mongolian Environmental Civil Council
MNT Mongolian Tugrik
MPC Maximum Permissible Concentration
NGO Non-Governmental Organization
PM Particulate Matter
SB RAS Siberian Branch of the Russian Academy of Sciences
SEZ Special Economic Zone
SPNT Specially Protected Natural Territories
SPPM Selenginsk Pulp and Paper Mill
UES United Energy System
UNDP United Nations Development Programme
UNESCO United Nations Educational, Scientific and Cultural Organization
WHO World Health Organization