1.2 Territorial-administrative division
1.2 Territorial-administrative division
Administratively, the transboundary basin of Lake Baikal is situated on the territories of two states – Russian Federation and Mongolia (pic. 1.2.1).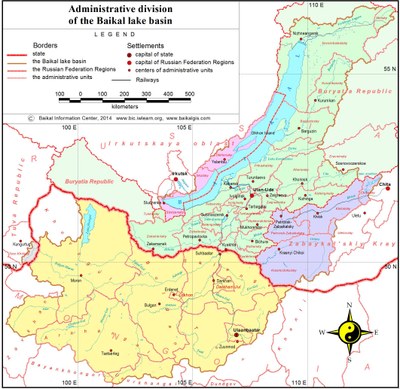 Pic. 1.2.1 Administrative division of Lake Baikal basin
The total area of the basin is 576,5 thousand km2, of which 44,6 %are in Russia and 55,4 % are in Mongolia [20]. The Russian part of the basin incorporates the territory of four administrative units (federation subjects) of the Siberian federal district and in Mongolia – the territory of 12 aimags.
In terms of the administrative division, the south-eastern part of Lake Baikal basin belongs to Zabaikalsky Krai (ZK), the central and northern parts – to the Republic of Buryatia (RB) and the western part – to Irkutsk region (IR). On the side of Irkutsk region, the region includes Olkhon district with the biggest island on Lake Baikal and the shore territories of Irkutsk (north of the Angara River) and Slyudyanka districts. From the north-eastern part of Lake Baikal, the lake basin incorporates the following administrative districts of RB: Severobaikalsky, Barguzinsky, Kurumkansky district, the western part of Muysky district and Pribaikalsky district. A considerable part of the territory is part of the Central ecological zone of Baikal natural territory (BNT). The central part of the basin of Lake Baikal in RB includes 15 municipal units: Ulan-Ude city, Bichursky district, Dzhidinsky district, Zaigraevsky, Ivolginsly, Kabansky, Kizhinginsky, Kyachtinsky, Mukhorshibirsky, Selenginsky, Tarbagataisky, Khorinsky, Zakamensky districts, parts of Yeravnensky and Tunkinsky districts.
The western part of Lake Baikal basin is represented by ZK and includes 5 administrative districts: Krasnochikoisky, Petrovsk-Zabaikalsky, Khiloksky districts, part of Chitinsky and Uletovsky districts, located in the tributary area of the Khilok and Chikoi rivers (table 1.2.1).
Table 1.2.1 Administrative units of Lake Baikal basin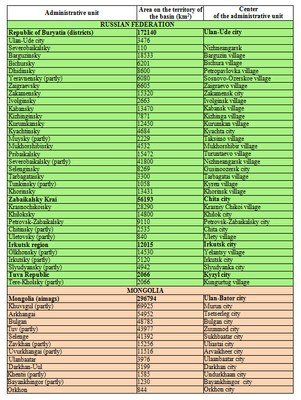 The Russian territory of the basin is part of Baikal natural territory (BNT), divided into three ecological zones [5,6]. The central ecological zone covers the water area and the shore of the lake. Ecological buffer zone is coextensive with the Russian part of the lake basin. The zone of atmospheric effect occupies the eastern part of Irkutsk region, adjoining the western border of the basin (pic. 1.2.2).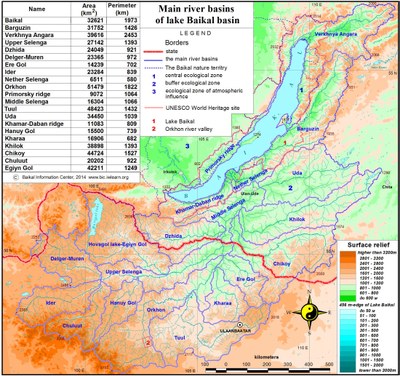 Pic. 1.2.2 Basins of the major rivers of Lake Baikal basin