140. Recreation on Lake Baikal shores map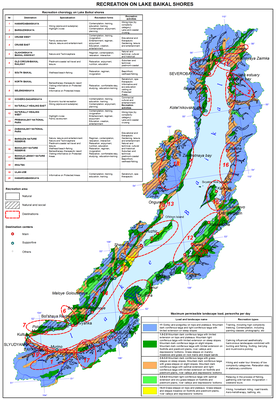 Recreation on Lake Baikal
Recreation as an essential type of human activity is mapped as an integral phenomenon. The degree of territorial development of recreational activities is reflected through the use of zoning (natural and natural-social recreation zones). The zones' borders correspond to the isohypse of 1500 m. The contours are defined by a natural and landscape differentiation. Five levels of maximum permissible density (people/ha/day) have been identified.
The main point in the explanatory note is the district and settlement zoning of recreation territories (the main and supplemental recreation centers) with due consideration to the typology of destinations and their specialization by forms and types of recreational activities. 
Assessment of the coastal landscapes for recreational activities.
Natural landscapes untouched by human activity directly and comprehensively satisfy the requirements of the physiologically needed recreation (unconscious-reflectory), such as contemplation, solace, relaxation, and so on.  These landscapes (groups of landscapes) must be protected. The most accessible part of the Baikal coast demonstrates a certain degree of environmental transformation. Social and specific (purposeful and deliberate) forms of recreation dominate recreation activities on these territories. The accumulation of the problems connected to the anthropogenic impact leads to the digression of landscapes and even to the loss of landscape diversity and total uselessness of the territory in terms of meeting the needs of recreation.
The map shows the types and subtypes of natural landscapes within the Central Ecological Zone of Lake Baikal. It also shows the zones of natural resources management, where integrated targets of the landscape and territorial planning should be achieved (preservation, improvement, development), and the territories that should be protected and recultivated