080. Education map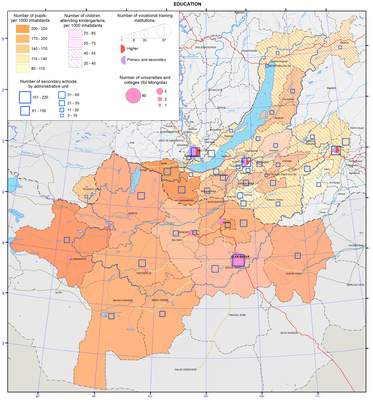 Educational
Education is an important factor of economic and social development. An individual, her or his knowledge and skills, and the ability to make nonstandard decisions in a rapidly changing economic environment are the most valuable element of society. Educational services can become a lever that can push the economy to a qualitatively new stage of development.
Preschool education aims to support mental, personal, and physical development of children aged 2 to 8 years. Depending on the laws, traditions and cultures, the approach to preschool education varies. It can have different basic and specific tasks. It can be compulsory or voluntary, and it may be implemented through a variety of traditional institutions. Within the study area, there are 1,436 preschool educational institutions with about 237.6 thousand children.
Secondary education is the first level of education. Currently, it usually includes primary, basic secondary, and secondary (complete) education, as well as additional education of children. In the Baikal basin, there are 1,412 secondary schools with about 637.5 thousand children.
In the Irkutsk part of the basin, there are 206 kindergartens with 35,268 children and 182 secondary schools with 86,982 students. In the Republic of Buryatia, there are 394 kindergartens with 45,007 children and 517 secondary schools with 123,362 students. In Zabaikalsky krai, there are 150 kindergartens with 24,119 children and 187 secondary schools with 57,210 students. In Mongolia, there are 685 kindergartens with 133,239 children and 523 secondary schools with 369,900 students.
Secondary vocational education (SVE) is a level of professional education, which aims to train practical specialists and mid-level employees for all industries. The training is carried out on the basis of basic secondary (after the 9th grade), complete secondary (after the 11th grade), or primary vocational education.
Today, there are 100 secondary vocational schools in the Russian part of the Baikal basin. In Mongolia, secondary vocational education is represented by 35 professional and technical schools.
Higher professional education (HPE) is a level of professional education, which aims to train specialists in any field of science on the basis of the complete secondary or secondary vocational education.
Higher professional education in the Russian territory of the Baikal basin is provided by 40 universities (state and private and their branches). In the Mongolian part, there are 29 state and 40 private universities, mostly located in the capital.
The scientific complex of the territory includes nine academic institutes of the Irkutsk Scientific Center SB RAS, five institutes of the East-Siberian Scientific Center SB RAMS, three research organizations SB RAAS, and over 30 applied research and design institutes. The system of academic science of the Republic of Buryatia includes the Buryat Scientific Center SB RAS (BSC SB RAS) and the Buryat Research Institute of Agriculture SB RAAS.
The university sector of scientific activities includes research divisions of four universities of the Republic. The scientific and innovation potential of Zabaikalsky krai is represented by the academic and university science. Currently, five academic and research institutions, including branches, operate in Zabaikalsky krai.
Mongolian Academy of Sciences was founded in 1961 in Ulaanbaatar on the basis of the Committee of Sciences (1921 to 1929 – Scientific Committee). Currently, it includes seven sections and over 60 research institutes, observatories, and research stations.
References
Federal State Statistics Service. Retrieved from http://www.gks.ru
National Statistical Office of Mongolia. (2013). Soyol, sport, ayalal, zhuulchlalyn salbaryn lavlakh. Ulaanbaatar. p. 285.
National Statistical Office of Mongolia. (2012). Mongol ulsyn statistikiyn Emkhetgel. Ulaanbaatar.