012. Modern exogenous processes of morphogenesis map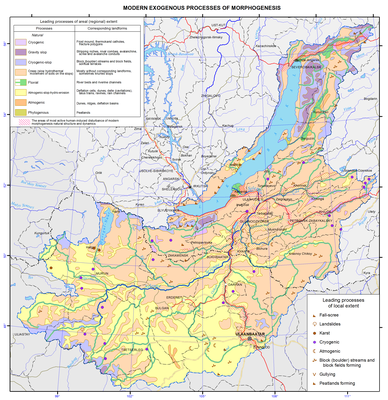 Contemporary exogenous processes of morphogenesis
For purposes of mapping, the leading processes were identified on the basis of a classification of the exogenous processes of morphogenesis of land, suggested by V. B. Vyrkin [1986], from taxonomic geomorphological units in accordance with the scale. At a small scale, the objects of geomorphological mapping are the types, subtypes and complexes of topography which are basic to identifying classes and groups of leading processes. The legend is based on identifying one leading process (the one exception to this rule is represented by the display of areas on the map where the contemporary morphogenesis is due to a combination of two leading classes of processes). Identification of the leading processes of the territory took into account their three main parameters: the coverage area, the duration of a continuous occurrence, and the intensity of development.
The process is identified through a process interpretation of the relief, deposits, landscapes, vegetation and other natural formations. The procedure brings to the fore the interpretation of the relief, its morphology, genesis and age, and the identification of the genetic types of deposits. Only an integral investigation into the landforms and correlative deposits, complemented with station-based observations of the intensity of processes, does make it possible to identify in the mapping procedure the leading processes, and of paramount importance is a knowledge of the geomorphological structure of the region being mapped. Vital to the generation of small- and medium-scale maps of the processes, especially for poorly explored spaces of Siberia and Mongolia, are space images. In Siberia's remote regions difficult of access, space images provide the main information base for map compilation.
Thus the methodological framework for mapping the contemporary exogenous processes of morphogenesis involves determining and depicting the leading processes. Maps as produced by such a method offer a means of investigating the structure and functioning of the processes of contemporary exogenous morphogenesis. They can be used in developing and generating regionalization schemes for contemporary exogenous processes of morphogenesis.
The map as created on the basis of the aforementioned principles constitutes a wealth of information which can be employed in dealing with issues relating to rational management of natural resources, assessments of the relief and contemporary morphogenetic processes, and to implementation of measures for the protection of land surface against hazardous and adverse geomorphological processes.