NGO «Great Baikal trail» (Russia, Irkutsk region)
NGO «GREAT BAIKAL TRAIL»

Contact information:
664023, Irkutsk, Lapina st., 43
Tel. +7 914-876-17-45
lena-chubakova@yandex.ru
E-mail: projects@greatbaikaltrail.org
Website: www.greatbaikaltrail.org
Director: Elena E. Chubakova
The purposes of creation: the construction of nature trails in the Baikal region.
Main activities: conducting volunteer projects for development and reconstruction of trails. Implementing projects, we develop eco-tourism, including a special kind of tourism – «volunteer vacation».
Implementation of projects
One of the main tasks - education of socially responsible society. for this to carry out educational, environmental and social projects. BBT organizes international programs and share experience with other regions of Russia.
GBT projects for the construction of the trail passes on the shores of Lake Baikal, and remote. Often these places are unique and are virtually untouched corners of nature, inaccessible to ordinary tourists. We invite you to get into the real jungle Khamar-Daban, found the stone giants of the Siberian taiga, to meet the unique nature of Barguzin Valley, plunged into the water enchanted Ina.
Nowhere else will you see such stars as the beautiful northern Balan-Tamur!
Each project lasts for 2 weeks. Volunteers live in tents and cook their own food on a fire. On weekdays they perform different types of work: cleaning and reconstruction of trails, construction of structures, garbage collection (see. Specificity in the description of each project). A weekend go hiking, sightseeing or just to relax and enjoy the pristine nature.
On each project group is accompanied by Brigadier (group leader with expertise in the field of building trails and life organization in the field camp) and the translator is responsible for communication between Russian and foreign participants, as well as cultural and entertainment program. The official languages projects - Russian and English.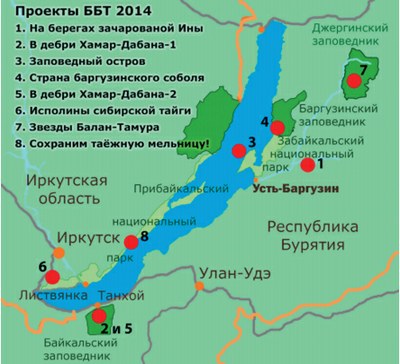 GBT'S PROJECTS 2014