NGO «Regional center for supporting public initiatives «Baikal´s children» (Russia, Republic of Buryatia)
NGO
«REGIONAL CENTER FOR SUPPORTING
PUBLIC INITIATIVES «BAIKAL´S CHILDREN»
Contact information:
670031, Ulan-Ude, Geologicheskaya st., 15-63 (№1-7)
670002, Ulan-Ude, Komsomolskaya st., 16
Tel .: 8 (9021) 692848, 8 (3012) 233888
baikalplanet@ya.ru
baikakkids.ru
Director: Molodeeva Irina Andreevna
Year of establishment: 15 June 2013
The purposes of creation: providing socially-oriented services, support for public initiatives, creation and implementation of projects and programs in the field of social work, education, science, health, culture, physical culture, sports, tourism, etc.
Main activities:
- Support of public initiatives and services in the activities on adoption of children, preventing abuse and anti-social phenomena, crime and social rehabilitation of the general public;
- Providing a broad range of social services (education, information, legal, financial, environmental, recreational) to the general public;
- Providing social services;
- Assistance to victims of natural disasters, refugees, immigrants, etc., including providing them with temporary accommodation or housing;
- Promoting rehabilitation and training for specific activity of persons with physical or mental disabilities or limited training of unemployed persons;
- Day care (nurseries, kinder-gardens), including day care for children with developmental disabilities;
- Day care for adults with physical or mental disabilities;
- Organization of day shelters for the homeless and other socially disadvantaged groups;
- Charitable activities (fundraising, etc.) or other assistance activities related to providing social services;
- Systematic studies and creative efforts in research and development in the field of social sciences and humanities (economic, philosophical, philological, geographic, law, educational, psychological sciences, art, architecture, and others);
- Organizing and conducting volunteer camps and events concerning tourism, environment, local history, recreation, sports, charity and entertainment.
Implementation of projects
During the spring and summer 2013 more than two hundred volunteers of all ages (from 10 to 60 years) participated in the unique scale project «Baikal Green Patrol». All participants received training briefings and trainings at the center of «Baikal» (in Ulan-Ude). In summer 2013 volunteers conducted "environmental landings" for cleanup on the coast of Lake Baikal. In the hottest months volunteer groups (20 people) are struggled with recreation load, because at weekends the beach near Goryachinsk settlement has up to 400 people. The situation is aggravated by the current waste disposal problem due to lack of budgetary funds for these purposes. Trash containers at summer months are often overcrowded. Despite the difficulties, the work of the shoreline of Lake Baikal was carried out regularly and conscientiously. Participants in the project collected more than 300 bags of garbage. Volunteers not only participated in the labor environmental assaults, but also organized educational activities with the tourists on the shore: conducted interviews and quiz on ecology, distributed garbage bags and handed out leaflets reminding the rules of behavior in nature. In the hard work the guys kept the motto of the project: «Sandy beach of Goryachinsk is the nature museum on the open air».
This activity produced tangible results - all 30 sites from Goryachinsk to cape Tonkyi (Subtle) were put in order. The most important thing was that all participants felt personal involvement to preserving of Lake Baikal. Great help to volunteers of «Baikal green patrol» was provided by the head of the local settlement V.L. Sumenkov, deputy district council T.A. Tivikova and guidance resort «Goryachinsk» - Director, Chief Physician D.R-N. Banzaraktsaev.
Management and employees of the organization «Baikal´s Children» - Chairman of the Board, a member of the Public Chamber of Buryat Republic, a member of the Russian Geographical Society V. Kiplyuks and project coordinator, Ph.D., teacher of the highest category I.A Molodeeva, the chief tourist camp, well-known educator and children's tourism enthusiast E.Ts. Tsybanov, and all volunteers have worked hard in order to implement the project into real practice.
The project was brought to the attention of the public and government agencies to preserve the purity and protection Goryachinsk beach. Numerous publications have been published national and local media, have been conducted the cooperation with administration of Turkinskoe settlement, staff and management of the resort «Goryachinsk» local NGO «Turka», educational institutions (schools and gymnasiums No. 2, 3, 8, 42, 49, secondary and higher education institutions – Buryat State University, East Siberian State University of Technology and Management et al.). Trained volunteers, members of labor landings acquired practical skills in environmental advocacy. Volunteers were able to organize outreach to «wild» tourists, campers and guests of resorts and touristic bases of Pribaikalskii district of Buryatia.
Implementation of the project «Baikal Green Patrol» contributed to preservation of the unique nature object - Goryachinsk beach, as well as to education of active citizenship, patriotism of participating volunteers and raising environmental awareness and responsibility of the tourists at Lake Baikal.
Project coordinators are very grateful to All-Russian public organization «Russian Geographical Society», which supports community-based initiatives in the field of ecology, volunteer and research activities of non-profit organizations in Russia.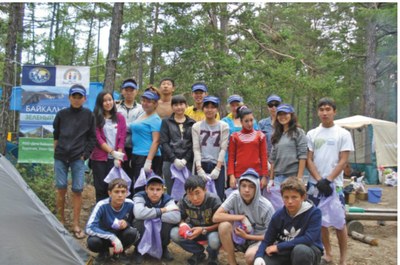 Baikal Green Patrol