NGO «Irkutsk children's ecological club «Dryad» (Russia, Irkutsk region)
NGO
«IRKUTSK CHILDREN'S ECOLOGICAL CLUB «DRYAD»
Contact information:
664082, Irkutsk, Universtetsky district, 78/9
Tel. 89645427970
E-mail: idec@mail.ru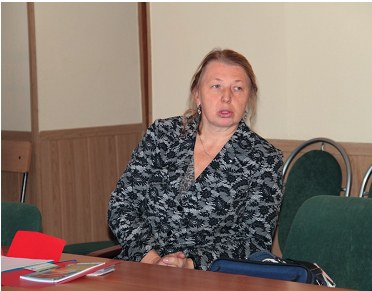 Chairman: Dobrynina Svetlana Viktorovna (pictured)
Year of establishment: 20 January 2000
The purposes of creation: environmental education and education of schoolchildren.
Main activities:
- lectures for students of environmental content;
- Conducting ecological and hiking;
- Participation in scientific conferences for students;
- Conducting environmental actions for garbage collection in the city and on the shores of Lake Baikal;
- Participation in environmental activities of other organizations.
Implementation of projects:
- Held 5 Subbotniks (works at weekend) refuse collection (in the territory of Central Park, the shores of the lake Baikal locations of ecological camps);
- Children participated in the regional scientific-practical conference "The researcher nature "- 1, 4 seats;
- Charity campaign «Сhildren about animals» for visitors Irkutsk zoogallery; participants of the Meeting of school forestry; students of Irkutsk.
- Collaboration with the Irkutsk zoogallery;
- To implement the 2013 grant project of the Institute of Civil Society «Baikal Small Academy of young researchers» training school students conduct research on water;
- A regional stage of the Russian competition of school water projects.
Lessons
Compared to previous years, the number of events has decreased since its premise is not, and under contracts of lease does not work since 2010
Environmental camps and trips are the same and are very popular new programs.
Prospects
In October 2013 the organization was awarded a grant of «Civil society» to carry out the project «Baikal Academy of Young Researchers». The project trained students 7-10 classes on research activities. Selected the best research to participate in the Russian competition water projects.