Tahoe-Baikal institute (Russia, Republic of Buryatia)
TAHOE-BAIKAL INSTITUTE

Contact information:
Website: http://www.tahoebaikal.org
Program director in the United States: Mattew Robertson
Coordinator in Ulan-Ude: Seseg Balzhinova - cecega@mail.ru
Coordinator of Irkutsk Olga Mikhaleva - olgamikhaleva20@gmail.com
Year of establishment: 1990
Mission: Tahoe-Baikal Institute (TBI) - international non-governmental organization focused on carrying out programs for cultural exchange, study and protect the watershed of Lake Baikal (Russia, Mongolia) and Lake Tahoe (USA).
Public organization «Tahoe-Baikal Institute» has existed since the 1990s., Since Ronald Reagan and Mikhail Gorbachev signed an agreement on the exchange of students within the framework of environmental conservation projects Lake Tahoe (California and Nevada) and Baikal (Buryat Republic, Irkutsk region) .
Implementation of projects
TBI implements two main programs - Summer Environmental Exchange «Summer Ecological Exchange» and exchange of TBI for graduates «Alumni Internship Program». TBI program implementation was made possible by the participation and support of many governmental and non-governmental organizations, research institutes and educational institutions. In America, it is the University of California (Davis), University of Nevada (Reno), the Agency for Protection of Lake Tahoe, US Forest Service, Environmental Protection Agency State of California and many others. In Russia - Irkutsk and Buryat State University, Baikal Museum, Faculty of service and advertising of Irkutsk State University (ISU) research centers of cities of Irkutsk and Ulan-Ude, nature reserves and national parks, public organization «Great Baikal Trail», «Baikal Environmental Wave», «Eсoleague» and others.
Summer Environmental Exchange has been held for more than 20 years. Young and talented experts in the field of environmental protection in Russia, Mongolia, North America and other parts of the world are studying the problem of drainage basin, as well as their solutions. The program for young researchers organized meetings with experts and environmental enterprises, interactive workshops, and environmental restoration projects on the Tahoe and Lake Baikal. In this program, all participants get a great experience of intercultural communication, meet with experts in the field of ecology - scientists, government officials, community organizations, learn languages, reclaim territory, go hiking, and more.
Each year, the program is changed, we try to establish new contacts, to cooperate with new and exciting organizations. In 2011, 2012. the program has been modified to organize similar events in Mongolia, and the participants were given the opportunity to visit one program in three countries. In 2013, carried out a shortened version of a summer exchange where only Russian students participated in the program in the United States and Russia. In recent years, the summer ecological metabolism in TBI has developed close cooperation with the Baikal State Nature Biosphere Reserve, where the group carried out research projects on the ecology, botany, soil science, sociology, under the guidance of experienced professionals. In 2013, was first established by an agreement with the Department of Tourism of the Faculty of service and advertising of Irkutsk State University, as a result of organized similar projects in the scientific and educational center of ISU «Sarma» near the island Olkhon.
Group projects on the lake Tahoe and give participants an invaluable experience with agencies, organizations and academic institutions on topics relevant to the region. From 2010-2013 along with group projects in Ulan-Ude and Irkutsk organized meetings with government and non-governmental environmental agencies.
Mini-projects conducted jointly with the National Ecological and Biological Center (Ulan-Ude), Sosnovo-Ozerskaya comprehensive school №2 (Buryat Republic, Yeravninsky District), a boarding school №21 RAO «Russian Railways» (Buryat Republic, Pribaikalskiy district, village Tankhoi), NGO «Ecoleague» (Ulan-Ude), the Botanical Garden of Irkutsk State University (Irkutsk), the Baikal Museum (Irkutsk Region, village Listvyanka), Great Baikal Trail (Irkutsk), Limnological Institute Russian Academy of Sciences.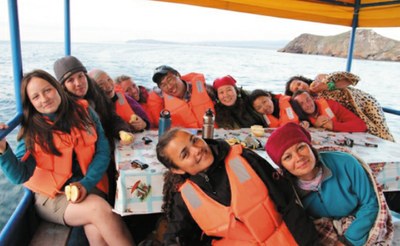 Participants in the program in 2013
In 2013, moreover, that the program was carried out in the states of California and Nevada, the opportunity to visit Arizona, thanks to a meeting organized by the NGO «Earth Island Institute». In addition to formal meetings, participants saw the greatest natural attractions of the US National Park «Yosemite» (Yosemite), the National Park of «Death Valley» (Death Valley), National Park «Grand Canyon» (Grand Canyon).
In 2011, training was organized for graduates TBI «Alumni Internship Program», to strengthen relations between the Tahoe-Baikal Institute and graduates, and there are more than 400 people. Under this program, the trainee was given the opportunity to select a suitable partner organization by profession or scientific work, in which you can acquire new knowledge, skills, and at the same time to share their experiences, skills for solving problems of the local catchment area. In the first year the program was attended by graduates from the Russian side, in 2012-2013. held mutual exchange between graduates United States, Russia and Mongolia. From 2011-2013,. host organizations for trainees were Limnological Institute, Laboratory «Problems of adaptation of biological systems», Research Institute of Biology at Irkutsk State University, Institute of natural Science, The Suagar Pine Foundation, South Lake Tahoe, Desert Research Institute, Tahoe-Baikal Institute, Mongolian Ministry of Environment and Green Development, Tahoe Regional Planning Agency.
Up, Lessons and Prospects
Despite a long history of complex relationships between Russia (USSR) and the United States, our social organization operates. Now there is another cooling of relations and the closure of many joint projects. For two years, the exchange takes place only in one direction. Russians come for the experience in the United States, and the Americans to us - no. It is hoped that the Tahoe-Baikal Institute will not stop its activities, and will be for years to come. The United States and Russia have much in common, and we can work together to address urgent environmental problems.