Mongolian environmental citizen's council (Mongolia)
MONGOLIAN ENVIRONMENTAL CITIZEN'S COUNCIL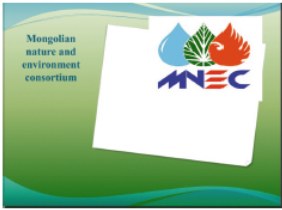 Contact details:
Room 310, Freshwater center Building , Zaisan tolgoi, 11th khoroo, Khan-Uul district, Ulaanbaatar, Mongolia
Phone/Fax+976 70131400
Website/e-mail http://www.mecc.mn irgenii.zuwlul@gmail.com
Year of Establishment 2008
Head of the organization Mr. Damdinsuren S.
Scope of the activities Conservation and protection of Mongolia's environment and the nature
Mission/Objectives Better coordination of Mongolian NGO's committed to environmental conservation
List of the environmental related projects implemented/or participated during last 3-4 years.
-         Number of trainings on environmental conservation is organized for its member NGO's
-         Series of debates and consultations on enforcement of mining related laws and seminars among members
Major results
-         Better organized NGO involvements into decision making process
-         Powerful voices against improper use of natural resources especially in mining sector.
Well informed members and more skilled members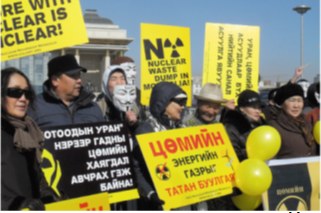 Environmental Citizen Council. Protesting debates on  nucleur wastes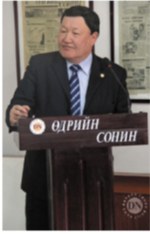 Head of the organization Mr. Damdinsuren S.