«National union to conserve unigue nature of Mongolia» NGO (Mongolia)
«NATIONAL UNION TO CONSERVE UNIGUE NATURE OF MONGOLIA» NGO
Year of Establishment Initial establishment in 1998
Re-establishment in 2013
Contact details: Room 303, Migma centre, 7th Khoroo, Sukhbaatar district, Ulaanbaatar Mongolia
(976) 99117608, (976) 70119056,
e-mail shiirevdamba@yahoo.com
Head of the organization Shiirevdamba, Ts.
Scope of the activities Support development of environmental policy, program and projects, consultancy and advisory services, evaluation and monitoring, research study, training and public awareness activities
Mission Support expansion of Protected Area network, improve protection regime, support implementation and enforcement of policy documents.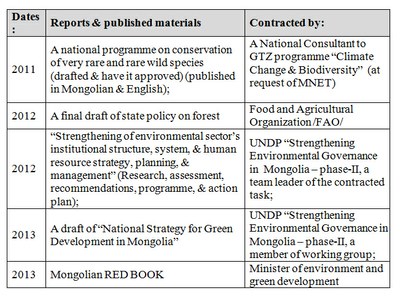 Major results Support formulation and implementation of national strategies on green development, revision of structure, strengthening capacity of staff, improve effectiveness and efficiency of trainings, conduct study and research and develop recommendations and guidelines.